From October 13th to the 16th, 2016, over 140 members of the professional contemporary fine craft community came together from across Canada for Cultivating Craft: Pathways to Practice, the CCF/FCMA's 11th Annual National Conference. Our largest conference yet, the events brought together individual craft artists, administrators, curators, collectors, students, faculty, and other leaders in craft education. Representatives from all Provincial and Territorial Craft Councils, and a broad cross-section of craft guilds and schools were in attendance.
With over 30 guest speakers, the subject matter was pointed, but the perspectives shared were broad. We have since received excellent feedback regarding the conference content, with a particularly high level of interest given to the Emerging Technology and Indigenous Artists, Communities & Collaboration panel speakers. Keynote Speaker Shannon Stratton also received excellent reviews, as her opening talk truly set the tone, with themes that would resurface often throughout the many ensuing panel discussions.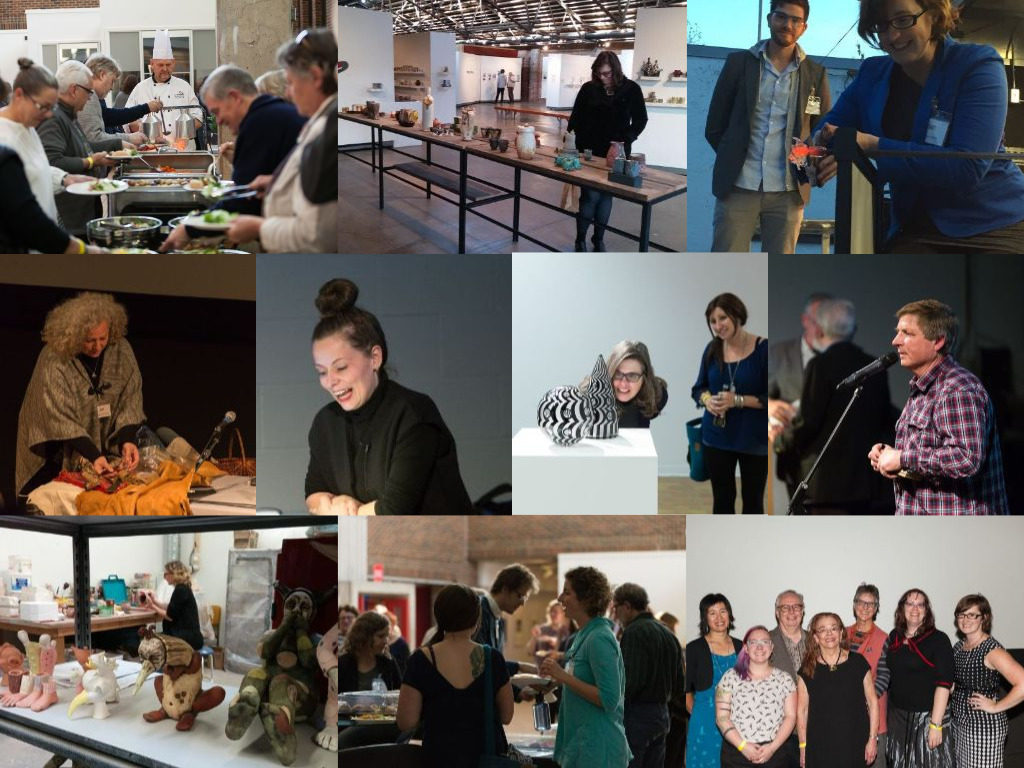 While the presentations and panel discussions were the focal point of the conference, an intensive array of contemporary fine craft activity took place in conjunction. The CCF/FCMA's bus tour brought 22 delegates from Calgary to Medicine Hat, visiting the Inspire Cafe and touring the extensive grounds at Medalta's Historic Clay District including their galleries, collections, studios, factories and more. Over 30 delegates participated in our second bus tour, visiting the private collection of book artist Dirk van Wyk, the mobile hot shop of the Glass House Collective, and a private showing of Kate Jackson's textile exhibition at Stride Gallery. With two excellent exhibitions at ACAD (including the Alberta Craft Council's Carrying On exhibition of aboriginal artist's work, and Influence, a show of ACAD faculty, student and alumni work) the conference site itself included must-see contemporary fine craft throughout the events. Celebrations of craft ended the opening night, with the presentation of the Alberta Craft Awards and the Robert Jekyll Award for Leadership in Craft.
Sorry to have missed out, or wishing you could re-live the experience? The CCF/FCMA is working to edit documentation from the conference. Stay tuned as selected material is released in the coming weeks.
Cultivating Craft was made possible through the efforts and contributions of many organizations, funding agencies, and volunteers who worked together to make the event a success. Our sincere thanks go out to our guest speakers, committee members, tour hosts, and on site volunteers. We also thank our generous funders, the Canada Council for the Arts, The Calgary Foundation, The Rozsa Foundation, the Saskatchewan Craft Council, Creative Saskatchewan, and Assurart. Last, but not least, we thank our excellent hosts: the Alberta Craft Council and the Alberta College of Art + Design.