Awards and Lectures and Workshops, oh my! With loads of craft events taking place in the region, it's time to focus on recent and upcoming activities from CCF/FCMA Members in Vancouver.
First and foremost, congratulations are in order. The Craft Council of British Columbia held an evening of recognition on March 15th, recognizing four outstanding artists for their contributions to the community. Keith and Celia Rice-Jones took home the CCBC Hilde Gerson Award for their excellence, innovation and leadership in the craft community. Barbara Duncan was named the 2018 CCBC Citizen of Craft, awarded annually to a non-maker who champions craft culture. And finally, the CCF/FCMA was proudly represented by Robert Jekyll himself, who presented the 2017 Robert Jekyll Award to Charllotte Kwon. With three winners of this award present, BC shone as a leader in provincial and national advancement. Congratulations to all the award recipients, as well as previous RJA laureates Jane Kenyon and Deborah Dumka. (Nominations for the next RJA are open until May 7th, 2018.)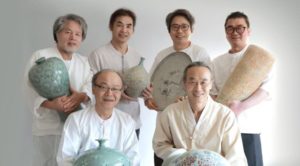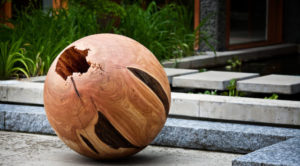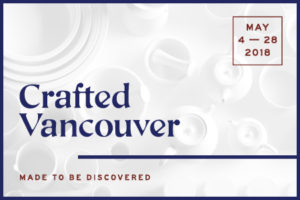 Throughout April and May, new and expanded events will be launched across Vancouver. Running May 4th – 28th, Crafted Vancouver kicks off with a launch party on May 9th. This festival-opening reception features a Korean Ceramic Exhibition from the Icheon Pottery Association, showcasing the work of six Korean masters who will also conduct a 3 day ceramic workshop May 19th – 21st. Throughout the month, Crafted Vancouver will also open 'Crafted Interiors' (an exhibition of furniture and art objects for everyday use in the home), 'Meet the Makers' (a social event where craft makers will converge and mingle), 'Balvine After Hours' (an exclusive talk with designer Brad Turner on the interior of the beloved Balvine building), a private bus tour and cider tasting visiting four studios, and more.
The CCBC has its own special Crafted Vancouver event set, with the 2018 Art of Craft Lectures. Providing lovers of fashion, art jewellery and those who see their bodies as a canvas for self-expression with an opportunity to explore the art jewellery scene in Canada today, this series features individual talks from Seattle artist Andy Cooperman, Vancouver artist Bridget Catchpole, and Saidye Bronfman Award winning Halifax based artist, Pamela Ritchie.
Along with the plethora of work to be found at the CCBC Shop and Gallery, the extensive events of Crafted Vancouver, and the countless exhibitions and shops to explore on Vancouver's Granville Island and beyond, it's easy to see why BC is the place to be this Spring.